WA Challenge Months 3 & 4 – Less Time More Money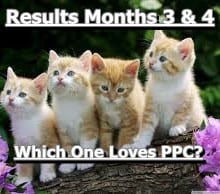 Written Friday 28th November.
Firstly apologies for not keeping to my intended results update schedule.
My excuse?
New real world project requirements have taken just about all of my time, and over the last 2 months I've added hardly any content to this site (1 post and 3 pages).
The result of this lack of activity has been a drop in site visitors from 359 sessions (visitors in Google Analytics speak) for the period 12 Aug – 13th Sept to 199 sessions in the last 30 day period (to 27th Nov).
Interestingly (well not that interesting) the Google organic sessions have gone from 43 to 73. A healthy increase with hardly any new content added.
The lack of content due to restricted time really is an excuse though.
Must do better…
Identity Crisis
For the past two months, yes I've had less time, but I've also had a bit of an identity crisis over the purpose of this site.
I like the record my 'journey' theme of the site.
But I haven't had a clear content strategy.
I also felt that the site lacked a clear 'message' or path through it.
In terms of solving the lack of a clear message problem. I think I've been guilty once again of over thinking this (I love to make things more complicated than they need be).
Helping others through sharing what I learn (good and bad) is a sound strategy. I need to increase the frequency of these posts.
Also let's not forget this site is an affiliate site. It earns commission by recommending stuff that really does help people.
I've changed the site navigation around to provide what I believe is a more helpful and a better converting pathway…
The home page is now a general article about how a beginner can make money online. It champions the principal that the fastest path to success is to find a mentor / plan to follow and combine it with some form of feedback / support / motivation.
(Wealthy Affiliate to my mind meet this criteria better than any other coaching program primarily due to the community. I think the coaching is the best too but that's a more subjective opinion).
The home page provides a lot of information and links to authority sites through the content. I did write it with both search engines and visitor experience in mind. (It'll be interesting to see if it can can attract any search engine visitors over time).
Internally the home page now links to WA success stories which I think is a very inspiring topic. As well as my getting started page which is 100% focused on setting up your WA account.
The sidebar navigation has been severely pruned to only focus on my main content and has been made more visual by using compelling image links.
The sidebar now has an image link to a comparison post I did comparing the big 3 (in my opinion) of online coaching (WA, Affilorama and Chris Farrell Membership). My profile widget that links to my Wealthy Affiliate Challenge content as well as my profile page hosted on Wealthy Affiliate.
I see the pages as being my 'core' content. It tells my story and provides my best work in terms of providing what I believe to be the best advice to someone looking to start earning money online.
Putting a visual comparison to this content I would say it's my funnel content, designed to both help and lead people to what they're looking for.
(It'll likely never be finished. I plan to add some Google Analytic goals so I can test and improve performance, and I'll be adding an email opt-in to the site as I believe list building is something I should be doing).
The rest of the site content should be more search engine optimized to bring in free targeted traffic to my 'funnel'.
What Content Strategy?
If I'm being kind I'd describe my content strategy so far as evolving, or maybe eclectic.
It's not as focused as I'd like.
I don't have a schedule or a list of keywords to aim at.
The obvious content strategy, one that is guaranteed to work from both a search engine optimization point of view and in attracting targeted visitors is to create lots of product review content.
Product keywords are far easier to rank for with lots of new products coming out every day, there's no shortage of material.
A proven 'angle' with this approach is to make your site helpful by warning people of the many scam products that are being released (make money niche).
I've been reluctant to throw myself into this because personally I don't enjoy researching and writing about something I don't like. So I'm going to have to either get over myself or write about stuff that is easy to rank for and that I do think is worthwhile.
For now I don't have time to write a lot of content so I'll leave this on the mental back burner.
Less Time More Money – Pay Per Click Works!
In the absence of content to attract visitors I've used cash instead.
I've used pay per click (PPC) traffic from Bing.
I've tested both direct linking and sending traffic to my website.
I've also tested direct linking on a few Clickbank products as well.
I used Bing as they are far more tolerant of direct linking and affiliate advertisers than Google Adwords.
Direct linking is where you place a text add and instead of linking it to content on your site you link directly to the vendors sales page using your affiliate link.
I look for products that I know are good and a sales page that doesn't appear to me to be over hyped. (Non of my current direct linking Clickbank campaigns are in the make money niche).
So results…
Bing Ad Spend

Wealthy Affiliate Sales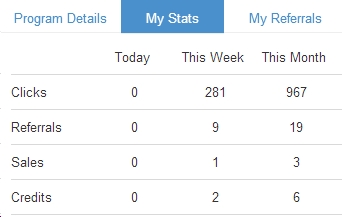 Clickbank Commission Last 5 Weeks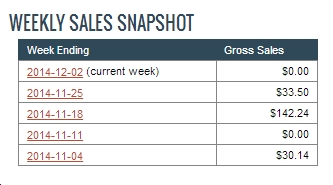 Estimated Outcome
The Wealthy Affiliate sales are valued at $8 for the first month rising to $22 for subsequent. According to Kyle the average lifetime value is over $100 as explained in the training here… (note I've changed the link to what I think is a better example from Kyle though in this example Kyle uses $50 as the lowest average lifetime value – in my experience the reality is way over $100)
So for November the WA averaged commission is 3 x $100 (average lifetime value) plus 6 x $1 Credits totaling $306 profit… ye-ha!
Clickbank sales that came via Bing Ads was actually 172.38
So the Bing Ads commissions totaled $478.38
My ad spend was £57.81 UK pounds which converts to $90.71.
So estimated ad spend profit = $387.67
Remember from a cash flow perspective I have to pay for the ads immediately but will only collect revenue from the WA sales at a rate of $22.50 per month per person whilst they retain their membership.
So some care needs to be taken!
Want to try direct linking yourself? I followed Kyle's training here…
Google Analytics Stuff
Love graphs, figures, and squiggly lines?
Brace yourself…
Here we go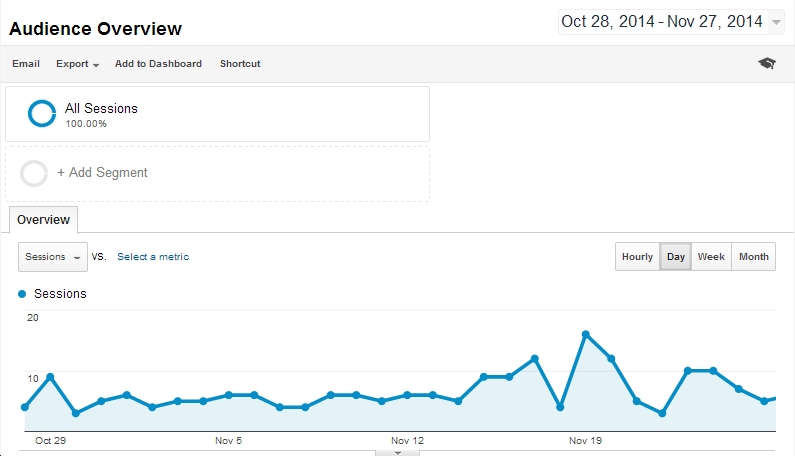 Can't think of any thing interesting to say about this…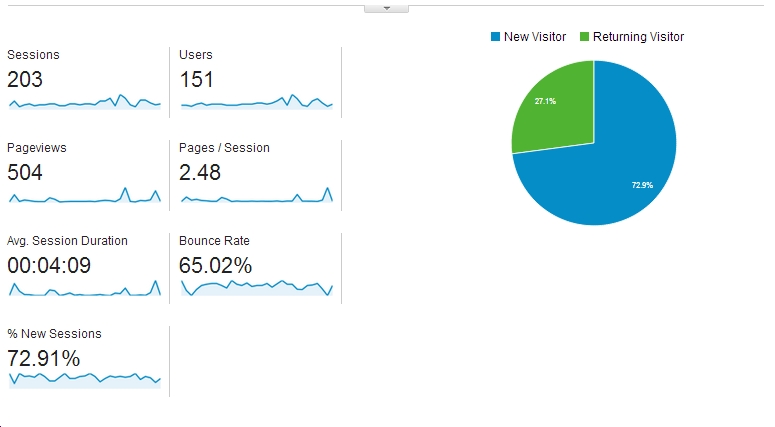 It all looks OK, good average session duration and mix of new and returning visitors.
Nice colors.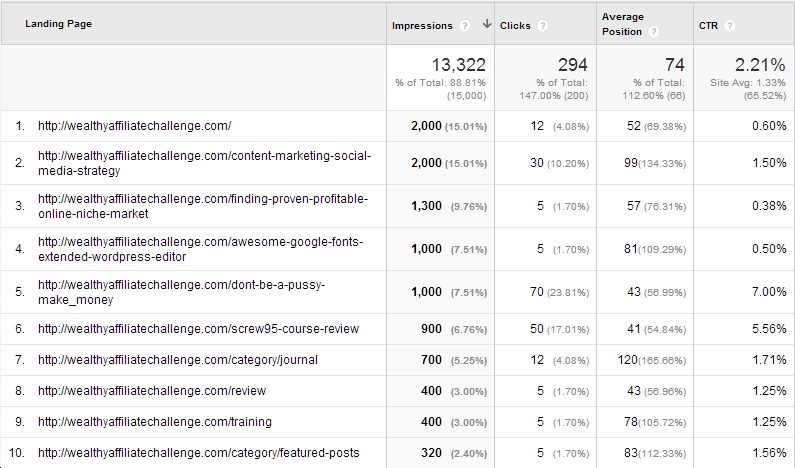 Wow! If the other two were a little dull, this one sure makes up for it  😯
Seriously there are some interesting things here… honestly.
The posts with the most contentious titles get the biggest click through rates.
My category archives are attracting traffic and they're set to 'no index' in my SEO plugin
Review posts attract good traffic.
The word 'pussy' seems to have magic power.
On that basis lets try…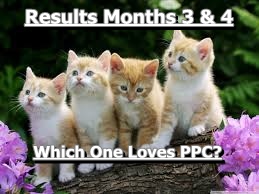 The 'secret' to making money online lies in combining pussy with reviews…
On that happy note I'll wish you all well.
Thanks for visiting and please guess which kitten love PPC in the comments below.
I'll give you a clue it's not the one 3rd from left…