Day 8 Wealthy Affiliate Challenge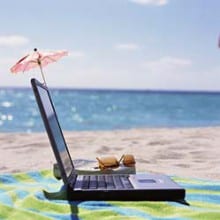 Sunday 20th July 2014 – 'Borrowed'  Susanne's (my very patient wife of 20 plus years) new laptop .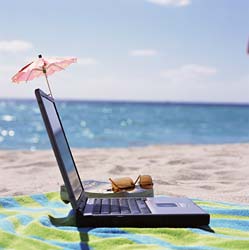 Big shout out for the Fujitsu Lifebook A Series.
Recommended by a friend who repairs computers for it's German made components and reliability.
Awesome so far, and great value at £350 ish.
Not a beauty but…
You can see the screen outside in bright sunshine!
So…
Shorts on, cool drink to hand, favorite garden recliner, and off we go…
Managed to start my WA review page.
Personally I like to plot out all the headings and create a template and save as draft. Following Kyle's Review writing training which you can access here (Lesson 6 Online Entrepreneur Certification – Making Money! Level 3)
I then populate the headings with content as I get it done (not going to hurry this as it's probably the most important page on the site).
Added in page navigation as I expect this page to be long and also to be updated as things change.
I've also added a header graphic to the site and modified header images for the review page and training page.
Using one of the WA affiliate banner images to create my site headers by editing using the fantastic free GIMP the Photoshop alternative.
I was able to replace the banners original text with my wording and am pretty pleased with the outcome.
GIMP is FREE opensource software and is available here http://www.gimp.org/downloads/
The other cool thing with GIMP is that there are lots of helpful YouTube tutorials to help people like me.
I was thinking of adding a step-by-step tutorial on how to use Gimp to do this. Please let me know in the comments if you think this is a good idea and I'll put something together.
Also on the subject of creating and manipulating images for my site I also use a free program called Photoscrape which you can get here http://photoscape.en.softonic.com/download-version/photoscape-3.4
I do all the simple stuff in terms of cropping, re-sizing, and adding text to images in Photoscrape which I find more intuitive and less intimidating than GIMP.
GIMP is fantastic but with the power comes a steeper learning curve.
If you've got a favourite image editing software please mention it in the comments below (thanks).
I' also added Google Analytics and Google Webmaster Tools to track the sites performance over time.
Objectives
To start and progress my Review Page as far as possible.
Add Google Analytics and Webmaster tools.
Create site header(s)
Outcome
Completed objectives.
Time Taken
Modifying the header graphics took about 2 hours. If I did the same project again I reckon I'd get it down under the hour.
So far the review page has taken about 1.5 hours.
Adding Google Analytics and Webmaster tools 15 minutes.
Please feel free to ask questions in the comments below.
Thanks for visiting.