Screw95 Course Review Is Jay Wessman Ripping Us Off?

The 'Lazy Ass Stoner' Screw95 Course Revealed
In reviewing Screw95 by Jay Wessman I'm looking to answer the following questions…
Who's this course for?
Does it work?
If you follow the training will ordinary people with no special marketing or technical abilities be able to make money. At the end of the day this is what it all boils down to – right?
I think the answer is yes. Meaning I think I could make money from it and I intend to test the system.
So whats the deal, why am I promoting Wealthy Affiliate training and at the same time saying Screw95 is a good course?
Because the two courses are very different.
Screw95 is all about creating niche product affiliate sites and promoting them in a very specific way.
I've never ever seen social media training before that I've ever felt able or willing to do before… ever.
Jay's site promotion method manages to achieve fantastic search engine results by getting other people to do all your hard work for you.
Sounds spammy… right?
I thought so too.
Curiosity and the fact that this is a Clickbank product (rock solid 60 day guarantee) prompted me to buy screw95…..
So will this be a keeper or will I refund?…
Screw95 is a….
….KEEPER!
Why Am I Keeping Screw95?
or what does it offer that Wealthy Affiliate doesn't provide?
In a sentence… It's super specific about what it provides (profitable websites) and how you build and promote them.
Wealthy Affiliate is a huge resource and community that pretty much teachers you everything you could ever want to know about making money online.
WA could be overwhelming for some (me  😛 )
Screw95 is a small course that will not overwhelm anyone.
Who's It For?
ANYONE who's looking for a simple system for building and promoting PROFITABLE product based niche websites.
Personally the only reason I didn't refund this product is because of the site promotional method, which I think is awesome.
Sure the video and training quality is top-notch but lets face it there are many courses that teach how to create niche product websites.
Introducing Jay Wessman to explain…
Check Out Jay's Sales Page (Link disables as product removed from sale)
What do you think?
Please comment below if you think this looks good… or not.
Does Jay's Technique Work? Time For a Case Study…
 Find Out More About Screw95 (link disables as product removed from sale)…
So What Do You Get With Screw95
As the screenshot above demonstrates Screw95 is divided into 5 stages, three bonus elements and a concluding video.
All the training is video based. But for those that worry that the videos are going to be long and require note taking this isn't the case.
Jay in my opinion is one of the most accomplished teachers (true his persona may not be to everyone's taste) I ever seen. He's concise and backs up every point with a visual example… simple but so effective.
Also there are absolutely NO UPSELLS with Jay's course. It's so refreshing to see training that requires you to buy NOTHING other than the domain name and hosting if you decide to implement.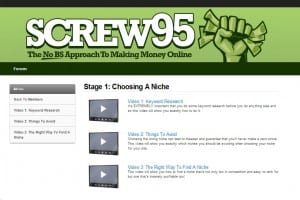 The research and niche selection (stage 1) and competition analysis is also refreshingly simple and requiring of no keyword tools other than the free ones.
Stage 2 building your niche WordPress website. I thought about skipping this bit, surely this is going to be the same old stuff everyone talks about… WRONG!
Jay simply tells you everything you must do to create a successful niche product website… I'm so glad I didn't skip this part.
Adding affiliate products to your new website is the next part (stage 3) and if you are experienced in affiliate marketing you could actually miss this bit (it's only 2 videos)
Stages 4 & 5 for me are where the magic happens. If you haven't already watch the first video on this page…
How much would it be worth to you to learn this stuff?
What About The Bonus's
3 bonuses which include 2 case studies of real sites where you get the actual url's so you can visit them and check everything out.
I love case studies like these, but they are rarely done on real sites because once they go public everyone just copies the sites.
The other two bonus'e cover scaling your site production up once you've mastered the techniques.
Finally there is also a members forum which I'll cover later as at the time of posting I'm awaiting moderator approval.
What Don't I like About Jay's Screw95 Training?
I don't like Jay's hat!
But he isn't even wearing one. This is the part of a review where the reviewer is supposed to say something that could be improved about the course.
But I can't think of anything I would change so I was hoping he'd be wearing the beanie hat he sometimes sports.
So I think the course would be better if Jay was wearing his hat.
Seriously… Jay could have talked about more stuff, but in my opinion that would have just been filler.
This course gives us EVERYTHING we need to make profitable product based websites… what more do we need?
Wealthy Affiliate Vs Screw95 Comparison Which Is Better
If you want to learn one online technique that makes you money…
Screw95 is the winner!
If you want to learn everything about making money online…
Wealthy Affiliate is the winner!
Seriously Wealthy Affiliate is like an interactive encyclopedia, the amount of skills you can learn is vast, the WA community is inspiring, encouraging,…. awesome.
My advise if you are considering just getting one of these great products.
Try them both out and see which teaching style 'clicks' with you.
Wealthy Affiliate offers completely free membership which you can get here…
Screw95 offers the rock solid Clickbank 60 day money back guarantee.
Get Screw95 from here (link disables as product removed from sale)…