Don't Be A Pussey and IGNORE Chris Carpenters Info Cash System Until You've Read This Review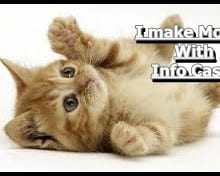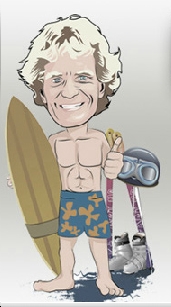 Chris Carpenter is old school Internet Marketing (circa 2003 Jurassic period in planet evolution terms)
He made his money profiting mainly from Google's then new advertising program Adwords.
Sharing his cash making secrets in his ebook (when ebooks were cool) "Google Cash".
Google Cash was a massive hit both financially and critically, as many of today's guru's acknowledge Google Cash as their early inspiration for money making on the net.
Info Cash is Chris revisiting and updating this subject matter and some…
Before we start this product suggests a practice known as 'direct linking'. For those that don't know direct linking is running adverts that go straight to a sales page. You link to the sales page using your affiliate link and if a sale or commission able action (email submit for example) is made you get paid!
Make more than you spend on advertising and your in profit – yeah!
Why do I like it?
It works!
In my recent results post I credit 'direct linking' with earning me profit (it also explains the rather offensive title of this post).
It's covered by the famous Clickbank 60 day money back guarantee – so there is no risk to buying and evaluating the system for yourself.
It's also way more than a how to do direct linking correctly course. It teaches a full blown marketing strategy that merely suggests direct linking as a efficient starting point.
Or
Shows you how direct linking could be your entire strategy if you don't want to progress to more traditional marketing systems.
It's also in my opinion very good value at a $47 one off payment.
Though it doesn't have a user forum the training which is delivered in video format has comments below. Chris Carpenter the creator answers all (from what I've seen) the questions directly. Which makes it really easy to get what you need and implement the strategy.
I actually bought this course last year but didn't get round to reviewing it. When I checked back in to update myself I was amazed to see that Chris has added content to the training (detailed list building and webinars on Facebook and Google Adwords). Making it even better value.
What I Don't Like About Info Cash
I actually read a few alternative reviews to try and get some inspiration here. Personally I'm not sure what people are  expecting for $47 but I think it's worth the money and if you don't agree you've got 60 days to get your money back… fair enough – right?
I would agree that Chris isn't the most eloquent of teachers but he does make up for this by answering all questions in his comments.
It also gets criticized for being a course that only teaches paid traffic tactics – Well HELLO that's the whole point of the training. If you want something that teaches free traffic generation DON'T buy Info Cash.
Others also suggest that training beginners to use paid advertising is wrong because we run the risk of setting our daily advertising spend to $1000's and blowing all our money.
This I find rather offensive – I'm perfectly capable of setting an affordable spending limit and setting up my campaigns so they don't leave me destitute.
I've actually MADE money doing this (results here) and I'm no expert on pay per click traffic.
And finally that Direct Linking is against Google's terms of service. Well it's not.
Want proof watch Kyle training on how to direct link here. Kyle is the founder of Wealthy Affiliate and is the closest thing I think there is to a saint in Internet Marketing. In the training Kyle gives a balanced view of the risks of direct linking using Google Adwords.
So What Do You Get For Your $47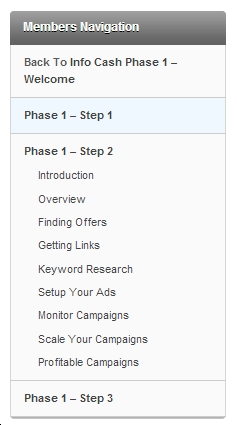 As you can see in the image to the right the navigation is very easy to use.
The training is mostly delivered by Video but there are also some pdf downloads to support the training.
An example being you can download the original "Google Cash" ebook which used to sell for $67.
Chris strongly recommends that you read this book because though it's no longer sold it still provides a great introduction training.
I would agree and found it informative and enjoyable.
One criticism Chris acknowledges that many of the links in the book no longer work and that he should fix them. Yes, I think he should fix them.
So is Info Cash only about making money by direct linking?
Absolutely not Chris recommends using direct linking to make money, but he's very quick to recommend and train you in more profitable marketing strategies.
His Phase 2 training is about expanding your knowledge into list building and email marketing.
As you can see from the screen grab below Chris is very clear that direct linking is not the most effective form of marketing, and he is going to train you on what is generally regarded as the best form of marketing…
List building and email marketing.

There is also a lot of additional training materials as the screen shot below shows…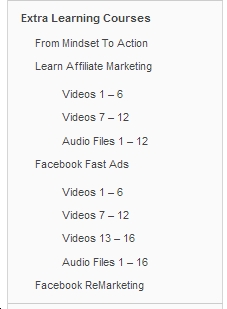 Phase 3 is an up sell "Profit From Your Passion" priced at $147 – This is an advanced level training teaching you how to create your own information product and build a business around that.
The up sell is very low profile. There really is no hype or arm twisting to try and get you to buy this. It's almost disconcerting!
So the intention with this product it to take  people from beginner to advanced level marketer using paid traffic sources.
Conclusion
If you want to learn paid traffic techniques Info Cash is in my opinion great vale at $47.
Check out the Info Cash sales video here…
It's quite unusual in that Chris talks through his training filming himself flying above his home in some sort of powered Glider (para-glider i think).
After the rather cool intro Chris does actually explain his system in detail…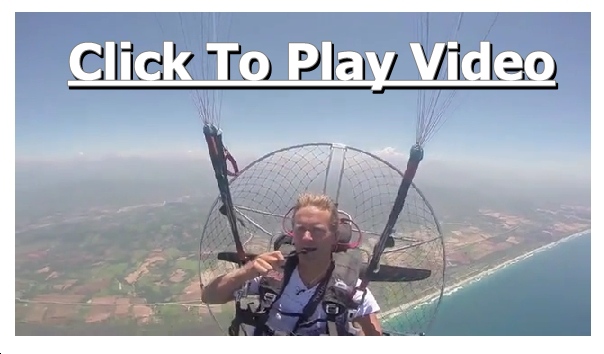 Would it be my top recommendation?
No.
Wealthy Affiliate because of the breadth, quality and user community remains my #1 recommendation. Read more about Wealthy Affiliate here…
But if you want to learn about profiting from paid advertising Chris's Info Cash IS for you.
P.S
In case your wondering about the contentious title. It's to test a theory that the more contentious the title the more clicks you get.