Mark Ling Interview – How Should A Beginner Start Online?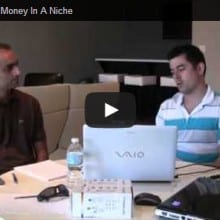 Really good interview with Mark Ling renown super affiliate and founder of the Affilorama affiliate training program.
Asked how he would start a niche business from scratch…
This is an insight into the thinking of an online millionaire. Sit back enjoy and take away some potentially life changing advice…
So know you know…
You'll not succeed if you come at this 'desperate' to make money fast.
Instead think that you are building a real long term business.
Get rich quick does NOT exist.
Successful people learn how to treat obstacles as challenges and opportunities to learn.
Successful people don't give up or blame others.
Use Amazon, Google / Yahoo answers for niche ideas.
Dig deeper with Ubersuggest.org and Googles Keyword Planner.
To succeed you MUST really know what your ideal visitor needs, wants, desires.
Research, research and more research…
If you can build a website that 'matters' to other people you'll succeed.
You don't have to know anything about a niche to start with to succeed (you'll have to research though).
People don't always want expert advice.
The content that you create has to be about THEM…
Testing is everything.
I hope you enjoyed the interview.
Want Mark to help starting your online business?
or
Compare it with the other top rated training programs for a newbie marketer…