The IMPOSSIBLE To FAIL Affiliate System...
The IMPOSSIBLE To FAIL Affiliate System…
Impossible to fail?
Pretty bold – right?
Here's why…
Because you're building a list of people you CAN HELP …then you're really helping them!
Let me use this page as an example.
I help people make money online through email driven Affiliate Marketing (my niche) by freely sharing with them what's working for me so that people can…
Evaluate the business for themselves free from hype and pressure.
I specifically advertise for people interested in some aspect of making money online.
Then filter out those not interested by being completely open about what email driven affiliate marketing is…
How it works, costs, pro's and cons.
No smoke n' mirrors just straight forward communication.
I ONLY want people that are interested to learn more.
Once I know people are interested in learning through their behavior.
I know I can help them…
Affiliates that help others earn money, It's the law of reciprocity.
Firstly I'm going to explain the framework.
Second I'm going to show it all in action through a free ongoing case study. You'll see the set up and ongoing development of the business, as I test traffic sources, different enhancement offers, and which affiliate programs convert visitors into happy customers.
Third I'm going to give you my 'enhancers' so you can use them yourself, and help in any way I can should you decide to implement this business yourself.
Sound fair?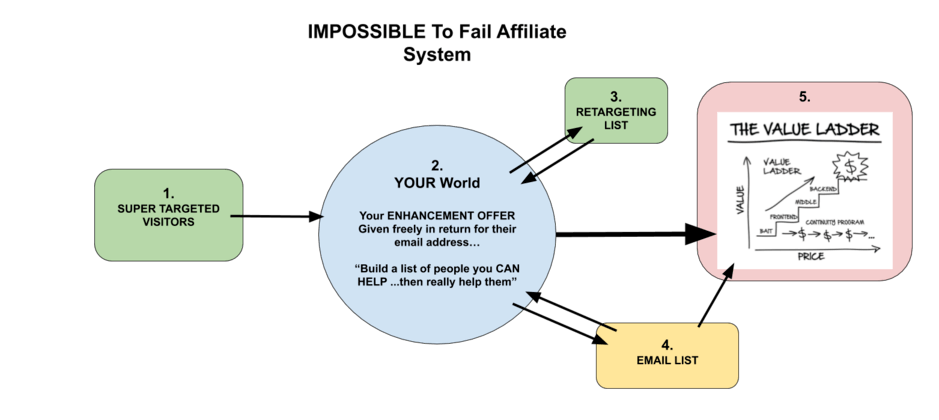 Firstly the framework
My objective is to build an email list of people I know I can help.
1. Super Targeted Visitors
I prefer to use paid advertising to attract targeted visitors (traffic) into my world. 
You can also use free traffic methods but these tend to take longer to implement.
2. Your World
We bring people into 'our world' which can be any combo of web property (Website / YouTube / Funnel / Blog /Social Media).
Don't be concerned about the tech & platforms we use as there are many ways to do this which I'll cover later.
Just know it can be started at very low cost (under $20 per month)
Our world is where we filter out people that we can't help.
And provide value in return for an email address for the people we can.
I package this free information into what I call an 'enhancer' offer which I give in exchange for an email address.
I go deeper on this and share an example later as this element is critical to our success.
3. Retargeting is optional but allows advertisers (us) to target previous site visitors at a much reduced cost.  
By placing both Google and Facebook retargeting pixels on our 'site' we build a Retargeting List of people interested in our topic that didn't take us up on our initial enhancement offer.
In effect retargeting allows us to never waste a site visitor because people that show interest go on either our email list (prime objective) for immediate follow up or our retargeting list for later.
4. Our primary objective is to build a very targeted email list of people we know we can help, and then help them through our enhancement offer and follow up content.
Next we have the Value Ladder. A critically important concept taught by marketing guru Russell Brunson…
5. The Affiliate Value Ladder…
As affiliates we're not restricted in terms of which products and services we show our audience.
We can assemble best of breed solutions.
Assembling the right value ladder of products and services that will help our audience is what allows us to earn more in affiliate commissions than the initial cost of advertising to build our email list.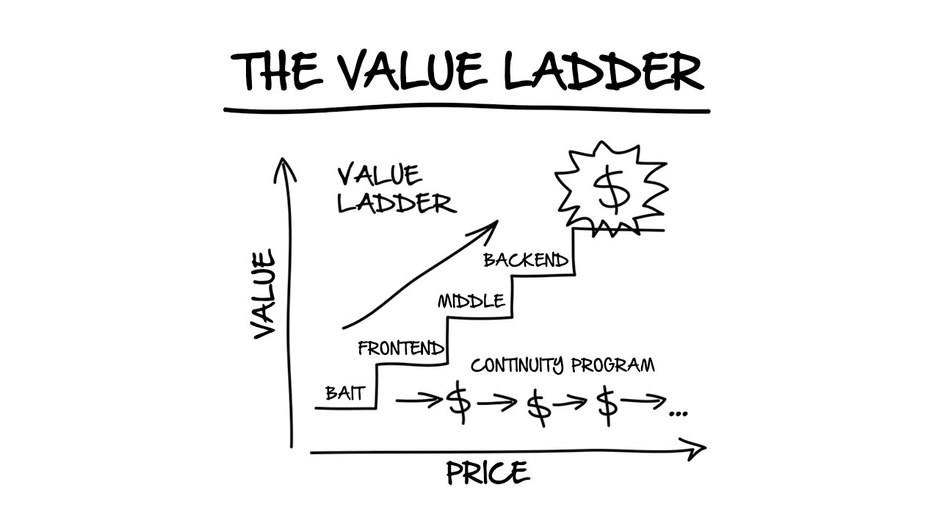 As Russell explains the VALUE ladder will provide great low cost / free information / service and only once value has been delivered will it go on to show people additional products and services that may help further…
Affiliate value ladders are built in the same way.
Establish value…
Show people how they can do things better, faster or for less cost…
Give people choices and help them make the right decision through the information you share.
There are many ways you can help people in your target market…
Think advice and tips, product and service evaluation.
Personally, I like case studies because you get to see the whole process end to end.
Providing the right information as an affiliate will ultimately lead to…
…happy customers.
which leads to the potential for long term customers for the companies you promote, and recurring commission streams (passive income) for you 🙂
Here's how an example campaign played out…
I targeted people looking for information on a popular affiliate training program.
NOTE: I owned this program and knew it's strengths and weaknesses.
I used PPC (pay per click) for people that included the product name in their search phrase.
My advert made my enhancement offer – something I knew would help people considering this program.
People that click the advert will then be shown my enhancement offer.
At this point I'll be charged for the click.
People that stay on my site over 30 seconds will be put on my retargeting lists for later advertising. There is no charge for building a retargeting list, I'll only pay when and if I start my retargeting advertising.
A percentage of people (ideally 20% plus) will subscribe to my email list and get my enhancement offer and follow up emails.
Income disclaimer: The following screen shots show some the results from this approach. These results are mine and do not guarantee that you will earn anything.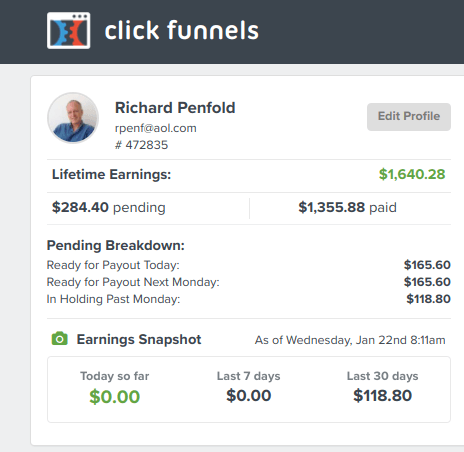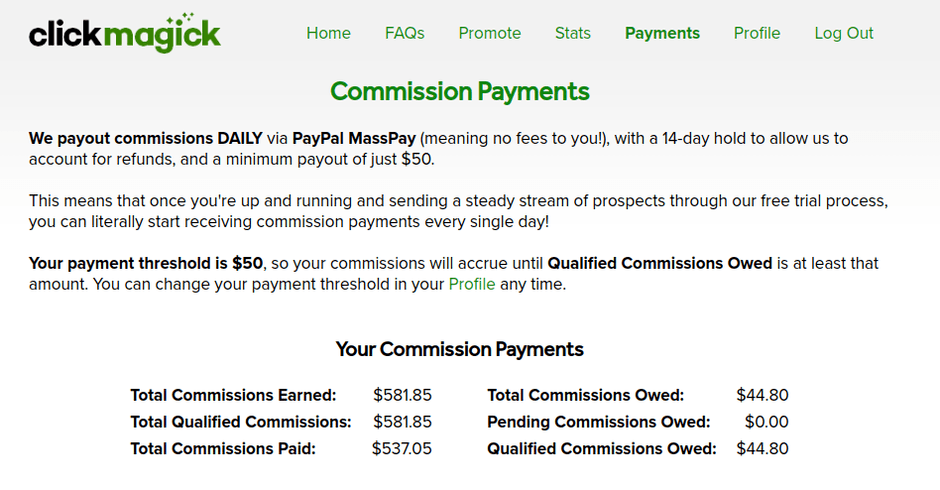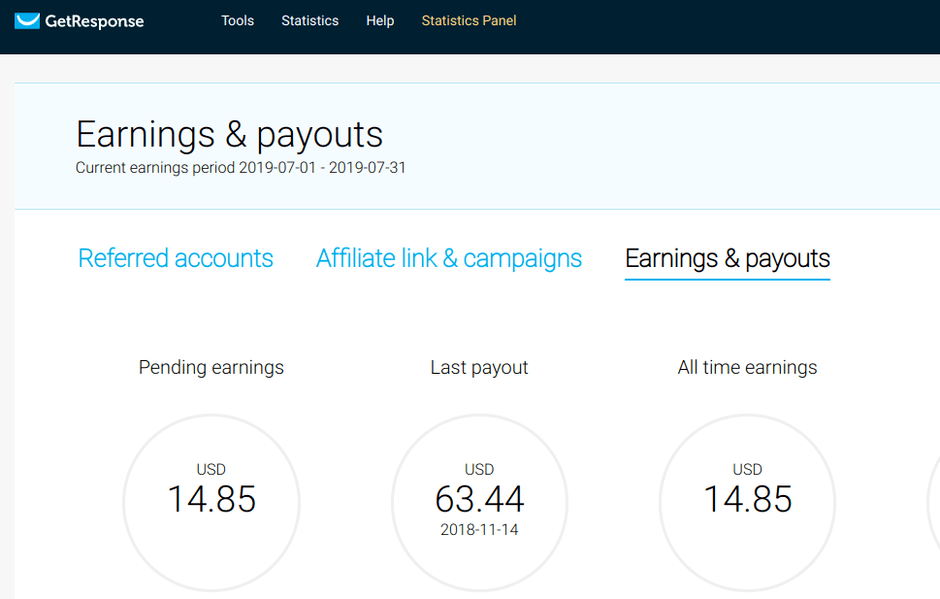 These results all came from promoting ONE affiliate program in a way that delivers value first.
I hope I've delivered on showing you a winning affiliate Framework.
If this stuff could be of interest to you I'd like to give you free access to… 
An ongoing Case Study which will show the set up and how it all fits together.
So that you can model / copy this for yourself.
Give you my 'Enhancers' so you can use them yourself…
And help you do it profitably by answering any questions and making sure your implementation is right…
No marine left behind 🙂