Comparison – Wealthy Affiliate Vs Affilorama Vs Chris Farrell Membership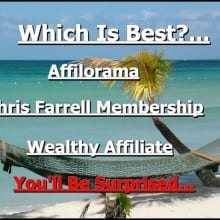 Introduction
Welcome to my comparison of 3 of the best rated affiliate marketing training products on the net… Affilorama from Mark Ling, Chris Farrell Membership and Kyle and Carson's Wealthy Affiliate.
The objective is to identify the best value step by step affiliate marketing training program for beginners
All of these programs are top quality (no scams here) and have seen some updates through the course of 2014 so let's see what's new for 2015 and which course will suit you best…
The comparison chart below highlights some of the key differences and provides accurate pricing information at the time of publication (Nov 2014).
[table id=2 /]
My Suggestion
It's my belief the fastest and easiest way to succeed online (or anywhere else for that matter) is to get a mentor, a proven plan, and then persistently take action.
However with no experience of a market it's hard to find your ideal mentor because you don't know what your looking for yet.
So in order to get both great training and some real experience under your belt at zero cost I'd recommend joining Wealthy Affiliate as a free member.
The three key reasons being…
Two free WordPress websites (no hosting or domain charges). Basically you can learn the ropes at someone else's expense.
The free membership training is really good and never needs to be upgraded to premium. Your development can go as fast of slow as you want / have time for… no pressure.
The Wealthy Affiliate community is huge, friendly and super active. The other two programs are both very good but their communities are like ghost towns in comparison. It's really important to be able to get help and support fast as you build momentum. WA is by far the best in this respect.
There is a scenario however where I recommend Chris Farrell Membership above the others. That situation is if you are considering using list building and email marketing as your prime strategy.
Email marketing is proven to be one of the most efficient methods for affiliates, as once set up it allows you to build a relationship with your subscribers that can be mutually beneficial for months or even years.
So if this sounds like you…
I'd suggest taking Chris up on his $4.95 trial version.
Personally what I like about Chris's strategy is it's focus and clarity. Both WA and Affilorama are massive training resources covering everything you'll ever need to know about affiliate marketing. The downside is that there's so much content it's hard not to get overwhelmed.
CFM on the other hand teaches you how to build a simple 3 page setup to collect email subscribers…
Your 'engine' as Chris describes it.
Chris then teaches you how to build strong relationships with your 'list' and then how to ethically monitise.
The rest of the training focuses on adding 'fuel' to your engine. Fuel being the people who visit your site (traffic) and subscribe to you list.
CFM teaches all the proven ways of getting traffic both paid and free.
Chris is truly gifted at teaching and simplifying the processes that lead to success.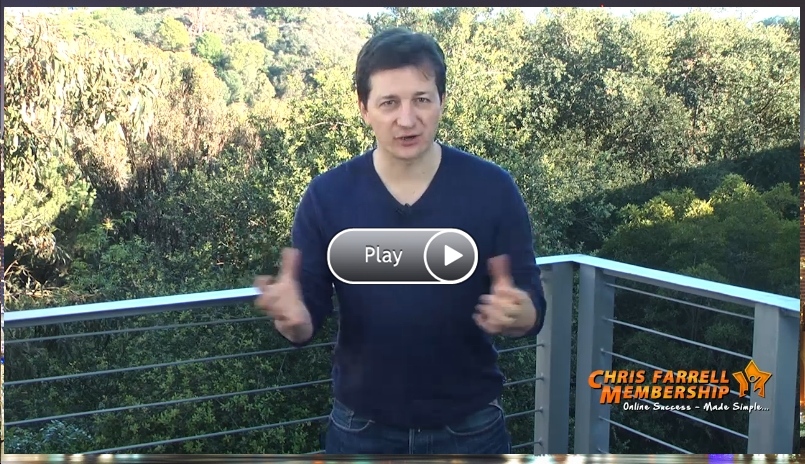 Who Are They For?
CFM or Chris Farrell Membership – Born of Chris's frustration with the over complicated teaching he encountered when learning online marketing for himself (2008). CFM is unashamedly aimed at people new to making money online.
Chris is one of the most honest and well liked people in this business, and his teaching style is very enjoyable and easy to understand through step by step high quality video.
CFM is very much targeted at people who would want to base their marketing on list building and email marketing. If this is you I would not hesitate to recommend CFM above both others.
Though there is no free membership the $4.95 7 day trial gives you access to everything you'll need and comes with a solid money back guarantee.
Chris teaches us how to build business 'engines'. The engine is the core of your online business and is a system for turning visitors into loyal email subscribers. Done correctly email marketing is proven to be the most profitable and scale able online business model.
Chris also includes a choice of 5 done for you niche 'engines' which you can use straight away to get you started.
The quality is great… want proof? click here to see an example I've set up in less than 15 minutes. (The whole engine works so you can optin and check out the quality of the freebie,  I've even connected it to my Aweber autoresponder so you can also see the email sequence).
Test CFM for yourself for $4.95 here…
Affilorama – Mark also has a great rep in the affiliate training niche. Mark's Affilorama offering is a little more 'old school' in terms that he offers great Free training and then a variation of more advanced products and services should you decide to invest.
Affilorama free membership which includes over 100 video classes (really good).
Affilorama Premium (Intermediate / advanced) $1 trial then $67 Monthly membership
AffiloBlueprint (beginner) $197 one off. Step by step video and text based training.
AffiloJetPack (beginner – advanced) $997 one off. Choose 5 done for you businesses from 18 proven marketplaces
Personally I'm disappointed there isn't a trail version of AffiloBlueprint as this is Marks most popular product and the obvious next step for someone who has tried the free membership.
Affilorama premium membership. This training is aimed at intermediate marketers, with advanced paid advertising training, and a lot of product development training.  Also includes a monthly magazine in pdf form this is new for 2015 with the first edition being November 2014.
My copy for November titled "All About Blog Money" is 131 pages! A detailed training magazine on how to bake money from blogging. Not sure I want to pay $67 a month but the quality is fantastic.
Mark also offers AffiloJetpack which is 5 done for you niche websites (engines in CFM speak) which include over 90 pro written emails including your affiliate links (this is the only part you'll have to edit) to the best selling products. Your job is to promote / market these websites and make money  🙂
There are 18 profitable niches to choose from within AffiloJetpack for $997 including all hosting and the training required to ensure you profit from your websites.
The only other thing you need is to buy the domain(s) name for each site and an autoresponder service (Aweber is the recommended).
AffiloJetpack is aimed at both beginners and advanced marketers who want a lot of the work done for them and don't mind paying for it. This is a lot of money, but if your interested the 60 day money back guarantee is rock solid.
(Both Affilorama and Chris Farrell Membership are sold through Clickbank a digital marketplace that manages all transactions and refunds. Clickbanks reputation is everything and as such all products sold through Clickbank are covered by their no questions asked money back guarantee.)
Finally Mark offers AffilioTools a tool suite which at the time of writing is officially in Beta testing. The idea is that it's a one stop shop for managing your website, keyword and competitor research, content rankings and social media performance.
It's described as an 'app' that given your permission will connect with your Google Analytics account, Facebook page and Twitter account, and make managing your online business easier and hopefully more profitably.
AffiloTools is valued at $67 per month in some of Mark's sales literature, but is currently free with Affilorama Premium membership. The price is marked as 'TBC' on the products official pricing page.
If your a beginner I would suggest starting with Marks free Affilorama membership and making sure you really gel with Marks teaching style because the next step is likely to be the $197 AffiloBlueprint, or maybe even the Jetpack!
Wealthy Affiliate (WA) – Kyle and Carson co-founders of WA do things a little differently from most training and mentoring services.
They believe that a product should offer an unlimited free trial period.
They don't believe in excessive up-sells (low cost introduction with higher priced 'upsells' to follow)
Pay for premium WA membership there is nothing else required (except for buying any domain names you may want)
You get their very best training to start with (no upsells).
Kyle and Carson would make a lot more money themselves if they moved to a traditional scaled pricing structure.
But that's not their style, and it's the reason WA is my preferred training program.
My only critique is that it offers so much training it's daunting when getting started. The training is at beginner to intermediate level and is delivered through video and text.
It's great training, an awesome community of members, and a fully transparent pricing structure.
Enough said…
Get started on the right foot with WA here…
or