Build My List Review (It's Not All Good)

Pleasantly surprised with this product.
As a jaded affiliate I was expecting hype over substance.
But though the sales video is slick, and shows us a glimpse of Jimmy's life, the content is very informative, and combined with the free ebook ("The Money Is In The List") this is very good educational selling.
Who's it for?
Anyone who isn't currently earning a lot of money through email marketing.
Jimmy Kim really knows his stuff and isn't shy about sharing.
In fact Jimmy positively overloads the 'front-end' value (yes; for you cynics there is a reason Jimmy makes this such a sweet deal… but I'll come to that later).
The sales video and free training report "The Money Is In The List" are worth consuming even if you've no intention of buying. This is very savvy marketing here, well worth copying what you like.
Build My List – What The Product Provides….
"The money is in the list" must have been quoted a gazillion times before, and this product is all about teaching us how to claim some of this money for ourselves.
Nothing new here other than seeing how a real pro builds and monetizes an email list.
The sales video and free guide to list building ("The Money Is In The List" by Jimmy Kim) not only tell Jimmy's story but also reference a case study Jimmy did showing how he could enter a new market from scratch (no list, no partners, not using his brand) just a pen name his savvy, and a fair chunk of cash (for buying traffic) it has to be said.
NOTE: If you've got the skills to get free traffic from social media or SEO this will work fine, but the training focuses on using paid 'targeted' traffic because it's fast, quality and profitable. Jimmy's system also aims to recoup all advertising expenditure within the first 14 days (personally I found funding and reinvestment model very enlightning).
The everything revealed step by step on this case study has been turned into one of the up-sells that accompany this product and though not required to make the system work It does demonstrate what can be achieved ($25k monthly revenue after 6 Months!).
The training is based on high quality short duration video. Enjoyable, concise and easy to follow… all good.
And there is also ongoing training calls and weekly webinars for members. Jimmy has recruited a couple of high earners to ensure the support and follow up training really delivers the promised results for his members!
Personally what I found really helpful was hearing Jimmy break down his metrics. A very simple way to demonstrate that email marketing really is a very viable business, that is within range of the average person willing to learn a few skills.
I'll break down the detail and structure of the training later in this review, but for now let's consider…
What's Jimmy's Angle Here…
Personally I think the training is good value, and when you consider that Jimmy is also offering 100% commissions on Build My List and the up-sells if you also choose to promote it as an affiliate it seems to good to be true?
Has Jimmy gone mad?
Rest assured Jimmy will not end up destitute by giving away all his front end revenue…
Obviously to run an email marketing campaign you need lead capture pages and an autoresponder service to manage your subscribers right?
Well Jimmy just happens to have launched one!
Sendlane looks to me to be a whole lot better than Aweber for similar money, and to prove this Jimmy offers 3 months free trial for Build My List Members.
A whole lot better than Aweber?
How so…
Because Sendlane is designed specifically for affiliate marketers, it includes a really cool squeeze page generator (think Leadpages) and is much easier to work with when building marketing funnels. It also has some list segmentation capabilities as standard that Aweber can't live with currently.
So though Jimmy gives away all his front end commissions he is sure to profit from the sales of Sendlane.
Note: Currently Sendlane offers no affiliate scheme. Also Sendlane is purely optional you can use your own squeeze page / auto responder combo just fine. But if you have neither Sendlane looks very attractive.
Also optionally Jimmy suggests adding MOBE (My Online Business Empire) through his affiliate link into your marketing funnel. This is the bit I'm not so keen on.
MOBE is high ticket (expensive) and one of those super hyped and sold multi level systems that seems to me to be best at separating ordinary folks from their cash and giving it to the marketing savvy 'few' that understand how these funnels work and have the funding to wait for the results to come.
Jimmy doesn't push MOBE down your throat in any way, but it is there for those that are interested.
So all in all Jimmy is being very generous which is very attractive for customers and affiliates alike. If his autoresponder is half as good as it looks Jimmy will have a flow of long-term customers that will be worth way more than the upfront commissions he gives away.
Note: Sendlane is optional, and will work with whichever service you use. I currently use Aweber, but have just decided to give Sendlane a trial.
If you're considering email marketing I recommend getting Jimmy's free report "The Money Is In The List", and watching his sales video which provides great detail on his method and what the training provides (very transparent – no smoke and mirrors from Jimmy).
[thrive_2step id='1169′]CLICK HERE TO ACCESS "The Money Is In The List" FREE[/thrive_2step]
Don't want the book but want to see Jimmy's video… CLICK HERE.
Build My List – Exactly What You Get…
Refund Policy – BML is sold on the JVZoo marketplace. As such all refunds are the responsibility of the product vendor (Jimmy Kim). The guarantee period is 30 days and is offered on all products within the sales funnel. This is a solid guarantee you can rely on.
JVZoo also publishes the refund rates of products and at the time of writing the refund rate for BML is 5.1% with over 7000 sales.
So here's what BML is in Jimmy's own words…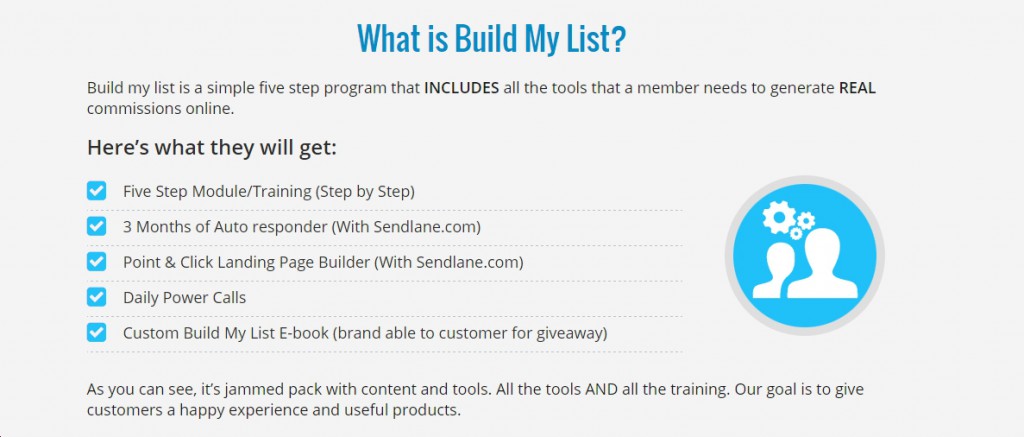 In more detail…
5 step modular training
Step #1 List Secrets – 10 Video's that teaches the why and how of list building
Step #2 The Profit Machine – 7 Video's that teach how to set up your list building software. Once set up this automates capturing and managing subscribers… the engine room if you like.
Step #3 Maximizing Commissions – 6 Video's teaching us how to promote BML and earn 100% commission, it also covers finding other great products to promote to your list.
Step #4 Business Wizard – 5 Video's teaching how to copy and paste all the 'done for you' squeeze pages and email swipe into your landing page generator & autoresponder. If your trialing Sendlane this is super easy, if like me your using your own tools, a bit more work is required (though not much).
Step #5 Traffic Triggers – 5 Video's covering how to get and fund your traffic needs. This is very much focused on finding targeted traffic – folks known to respond to the content you'll be offering.
My view is that many people fail with making money online not due to lack of talent, or opportunity, but through lack of focus and taking consistent targeted action. In many situations you may use an accountability partner or mentor to help you over the difficult patches, Jimmy has really set BML up to help people succeed.
An example of this is the daily power calls. A recorded call with Jimmy or one of his team (the one I attended was Jimmy!) to help motivate and keep people on track for success. This is a big workload for Jimmy to take on and demonstrates that BML is not a one off sale type product.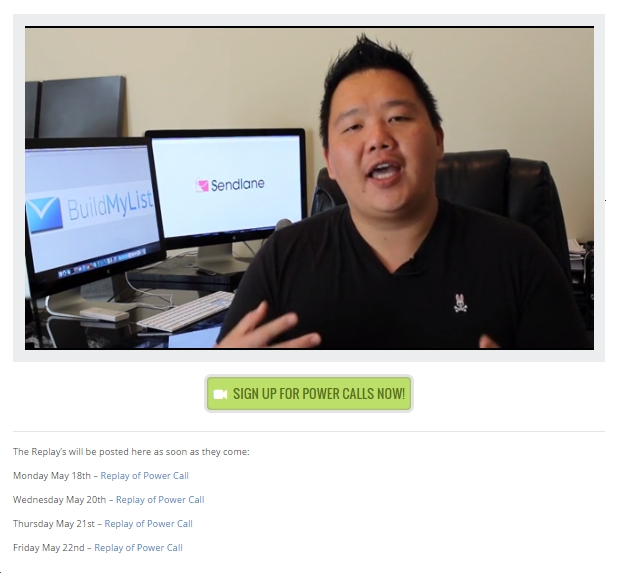 Conclusion
The more I see of Jimmy (have now seen 2 of his 1 hour webinars and 2 daily calls) the more I believe Jimmy can teach people this stuff.
Most products you buy at such a low cost point have very little in long-term support.
This looks very different.
True, it's in Jimmy's interest to help us succeed and grow his Sendlane business, but that's good for all concerned.
I don't know any super successful marketer that doesn't use email marketing to 'amplify' their business results. Therefore BML gets a thumbs up from me 🙂